Afghan Adjustment Act not Included in Omnibus spending bill, source says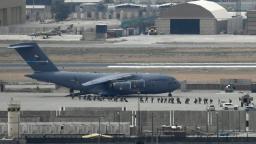 CNN
 — 

The Afghan Adjustment Act will not be included in the omnibus spending bill, a source familiar told CNN.
Sen. Chuck Grassley, an Iowa Republican, continued to oppose the act at the committee level, the source said.
CNN previously reported that roughly two dozen former leaders of the US military sent a letter to congressional leaders over the weekend urging them to act quickly to save Afghan allies who run the risk of deportation. Specifically, the group – including retired chairmen of the Joint Chiefs of Staff, a former Supreme Allied commander of NATO and several former commanders in Afghanistan – asked congressional leaders to include the Afghan Adjustment Act in the omnibus spending bill.
The measure would give those evacuees a pathway to lawful permanent residency before their temporary status, known as humanitarian parole, expires in 2023.
This story is breaking and will be updated.